– By Sanjay Jha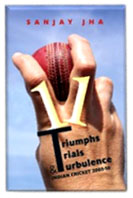 Year: 2004
Place: Nagpur
Occasion: Third Test match between Australia and India
Series Status: ( 4 Test series) : India trailing 0 – 1
It was a hugely controversial Test match that several believe was to change erstwhile skipper Sourav Ganguly's professional career forever. Give him a tag of a whimpering loser, a spoilt brat looking for first among equals status because of his prestigious position, who finally dropped out of the playing 11 because of a massive confrontation  with the local association honcho over the lively green grass on the 22 yard bitch of a pitch . Anyone and everyone who saw that remarkably gritty 2001 series when India made a preternatural comeback at Kolkata and then scored a wondrous  win at Chennai to eke out a brilliant series victory against Steve Waugh's men in what is aptly considered as " amongst the greatest Test series ever" , would have understood Ganguly's predicament as well as his predilections.  He was the grinning triumphant captain then, but now had his back against the wall as India were struggling 0-1 with two Tests to go. A full day of rain in Chennai on the last day in the previous Test had perhaps deprived India an opportunity of leveling the series. But Nagpur was now pivotal to defend the Final Frontier from another determined assault from the Aussies or else the famed rampart risked an imminent collapse. Waugh was gone but Adam Gilchrist-Ricky Ponting looked fiercely resolute in their will-power to at last dethrone Indian garrisons in their famous backyard.
It was in this background that seemingly Ganguly literally pleaded with the big boss of Nagpur cricket to not provide India's opponents with a huge competitive advantage by trimming excess grass to make it literally a level-playing field. . All would be lost, protested Ganguly. But the local chief was adamant, as unrelenting as the rocks of the Vindhyachal  mountain ranges.  Apparently after a furious collision with the big boss, the skipper refused to play the vital game, citing physical injury .  Those who know Sourav personally well enough and also covered the match vouch for his upper thigh strain but speculation reigned that something was seriously amiss. India lost that match by a whopping margin, catapulting in a manner pathetic , an anti-climactic result by all standards.  The Final Frontier, our proud symbol of obdurate resistance was now captured in a ruthless grip by the celebrating Australians. The Indians trooped away, head hung low , embarrassed and humiliated.
But several questions remained unanswered; just why did the local chief refuse to give the national captain his favored turf? Why ? Under normal circumstances, it is customary practise to provide favorable conditions that suit the host team, so why was an exception being made despite a personal request ? Was inner rivalry between warring camps of BCCI  responsible for India's dismal rout in conditions instead supporting the Australians?  Wasn't that ridiculous, self-destructive and unethical? Did the defeat of our own national team did not matter as long as political victory of one camp was assured? Can Indian cricket be trusted in the hands of such parochial petty men with no patriotic sensibilities? The local chief , the big boss was incidentally one Mr Shashank Manohar, current President of BCCI.
In my forthcoming book 11-Triumphs, Trials and Turbulence Indian Cricket 2003-10 , I have referred to this peculiar contentious  issue. Actually, I wrote it several years ago. But by  sheer coincidence, India's noted editor of national daily Indian Express Mr Shekhar Gupta has raised the same questionable conduct of powers-that-be in his editorial column IPL baby, IPL bathwater in Indian Express of Saturday dated April 24 2010 .
An excerpt:
"It is an aside , but an important one, so let me mention it. In October 2004 when ( Jagmohan) Dalmiya was riding high mainly on India's on-field success , and " needed to be put in place" , the groundsman in Nagpur had produced a green-top for the India-Australia Test ( when India were trailing 0-1 with only one more Test to go ) so fast -bowler friendly , that one look at it on the morning of Day 1 and Captain Sourav Ganguly got such a stomach-ache that he couldn't play . Of course India lost within four days, and Australia had conquered their last frontier, winning a series in India. Dalmiya was brought down a peg too. Of course Shashank Manohar's Nagpur has not produced another wicket like that since. There isn't very much more of a mere mortal can say on this , but on some day of reckoning a distinguished gentleman from Nagpur would have to answer a tough question or two on this."
"This slice of our cricketing history is relevant because it tells you what a vicious political game goes on for power in the BCCI. With the rise of an all-powerful ( Sharad) Pawar , all dissent, competition, internal political challenge, democracy vanished. Along with it disappeared any semblance of checks and balances. The new cricketing establishment became a cozy, closed, exclusive club whose members stuck out together  in  a display of loyalty not expected from our political class".
As Manohar gets down to investigating the numerous wrongdoings of IPL Commissioner-Just Suspended , perhaps it is time he started by explaining to us all why the grass was so green in his beloved city of oranges six years ago? Let the process of purging the ills that have infiltrated Indian cricket be pure. The mopping up of the dirt operation must start at home.